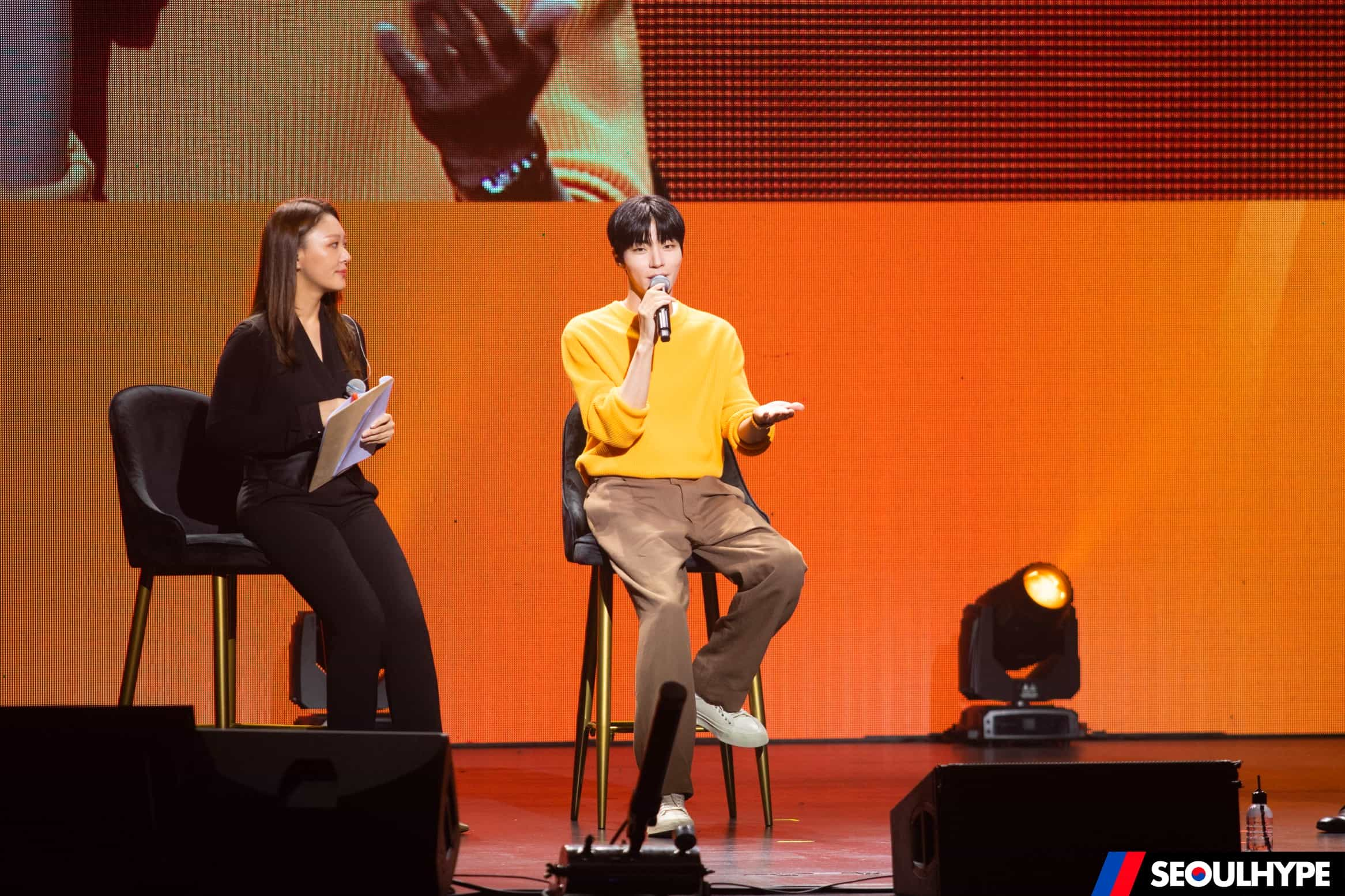 SINGAPORE (30 July 2022) – Hwang In Youp could play a charismatic swordsman in one drama and a basketball captain in the other.
In reality, he's one sheepish boy-next-door, very much different from his onscreen personas. But the 31-year-old actor still has a way with words. 
And he's proven himself at the Singapore leg of his first overseas fan meet. It was no less an intimate and warm session chock-full with infectious laughter and resounding cheers.
"You don't need to have a dream", Hwang quipped as he addressed a crowd of approximately 800 fans at Capitol Theatre on a Saturday night.
Word of caution: don't take his words too literally just yet.
He referenced what seems to be the punchline of the night to a line in his recent project The Sound of Magic (2022). In the series, Hwang played an academically competitive high school student Na Il-deung, who finds himself lost in life after a tireless pursuit for excellence.
The key takeaway is to live in the moment even during a fleeting existential crisis. The iconic line was wittily delivered in response to a fan's question during a Q&A segment where he was asked to dish out some life advice.
Other than playing Aunt Agony, Hwang was also game enough to yield to his fans' requests, despite only offering an initial tease.
He held back a live rendition of Zico's Okey Dokey (2015), a re-enactment of an indelible scene in True Beauty (2020), till much later into the show. 
It was only then where he was visibly more at ease with the crowd. At one point, he even walked round the whole theatre to get up close with fans before going back onstage.
Autographed polaroids, handshakes and even hugs were generously doled out to fans who engaged in onstage activities with Hwang. 
Throughout the two-hour set, fans were picked at random to play a traditional game of Ddakji, attempt the eye contact challenge (where a participant loses when he/she blinks before Hwang does), amidst others.
In an impromptu poll during the session, it's intriguing to find that a sizable portion of the audience only know of Hwang after his recent works. They include 18 Again (2020) and The Sound of Magic (2022),
A segment on Hwang's acting journey was therefore thoughtfully crafted. Fans sat through a crash course on his career, starting from The Tale of Nokdu (2019) to Why Her (2022). 
It's telling that Hwang takes great pride in his craft just by listening to him introduce the roles he previously portrayed.
Hwang is headed to Indonesia, Manila, and Bangkok for the rest of his Asia fan-meeting tour, which will span August and September.
This article is made in partnership with SeoulHype.

THIS SPACE INTENTIONALLY LEFT BLANK.